The history of Sondre begins in Morgedal, Telemark. He was born June 10, 1825, at Øverbø, a little cotter's farm nestled in the hillside. About 500 people lived in this Southern Norway village at that time. Here he spent his early childhood years together with parents Ingerid and Auver, his grandparents Eivind and Sigrid, and his elder brother Eivind. The family was poor, and his family's ancestry included generations of poor cotters.
Eventually, Auver moved his small family into a home of their own, at a little farm called Kvæven, not far from Øverbø. Here they spent just a short time together before Ingerid died. Sondre was only two, and Eivind just four years old when they lost their mother. Soon after, Auver moved with his two boys back to the grandparents at Øverbø where they stayed until he remarried. With Anne as their stepmother, the family moved back to Kvæven. Soon after this, another baby named Ingerid was born.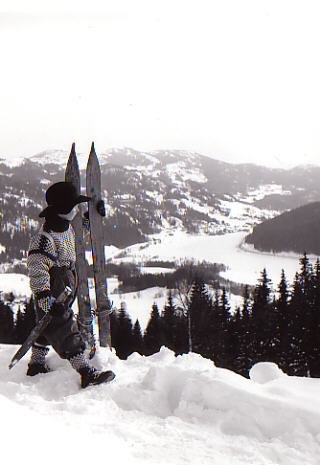 Little Sondre loved the winter hills in Morgedal.
Knut Råmunddal as Sondre.
Courtesy of Telemarksreiser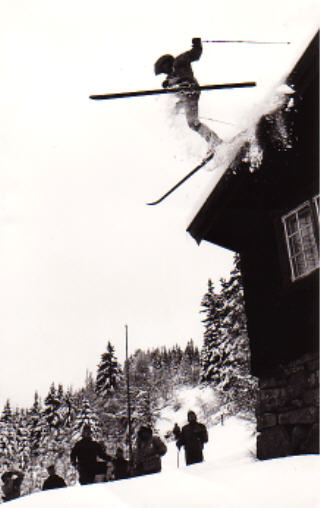 Jumping from the roof of the Sondre cottage
Photo by Fred Friberg/NN/Samfoto
Kvæven was a cosy place. When visitors opened the red painted door, they were welcomed with a casual sight. Often Anne was spinning in front of the fireplace with Auver, a skilled craftsman, sitting by the window working on a craft. A lively and active child, Sondre found the surroundings in beautiful Morgedal terrific for different activities, summer as well as winter.
Sondre loved the winter hills in Morgedal. As often as he could, he put on his skis made of pine, which his father had made for him. Everyone knew that once he had started his wild "snow dancing" in the hills, it was difficult to get him back home. His father wasn't always too happy about this. The children were supposed to share in the farm's work but these parents found it necessary to make some exceptions due to Sondre's restless and dreaming nature.
Anne expressed her feelings saying, "I'd rather have ten Eivinds than one Sondre". Learning to read and write was not so interesting for Sondre. He found it much more fun to be out in the hills skiing and playing, than struggle with the reading book. He actually threw his ABC book in the fire once!
But when the hills shouted for him, he didn't hesitate to answer, "I'm coming!" Fearless and daring he ran straight down the most dangerous and challenging hills, rudely waving his cap. The people around said that it looked like Sondre was born with skis on, and that it seemed like skiing was his natural way of moving.
"Do you think it's possible to jump on skis over our rooftop, Eivind?" he asked his brother.
"Don't think so, Sondre."
"Let's give it a go!"
So the two boys took a ladder, connected it from the roof to the hillside behind the house, and then covered it with planks, spruce sprigs and snow. "Here I go!", Sondre shouted from the hill before he set off. Inside the cottage Anne and Auver heard this mysterious noise from the roof, ran to the window and leaned out to see Sondre wildly jumping from their own cottage roof. Skiing was a popular activity in Morgedal. On Sundays both children and grown-ups came together to discuss ski-abilities and techniques and have fun on the steep slopes. And Sondre became a strong inspiration at an early age.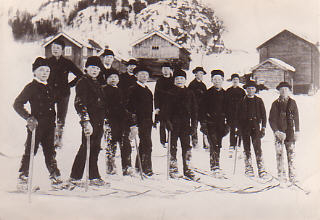 Young skiers in Morgedal around 1880
Courtesy of Hege Bjåland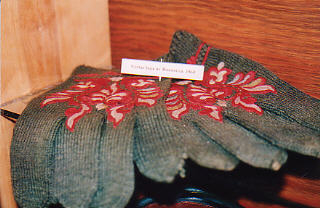 Knitting from Rannei's hand
Photo by Eivind Molde
Courtesy of the Norwegian Ski Museum Morgedal
Due to Sondre's playful nature, he liked to be where the fun was. He was an excellent dancer and many were the parties where he stole the show by fiddling, flirting and dancing.
Along with his playful nature, Sondre also experienced sorrows. Deeply in love with the girl at the farm Kleiv, he actually properly asked her to marry him. It is said that her parents refused the proposal.

A poor cotter's boy was not what they had expected for their daughter. The girl was married into a rich family, and Sondre was totally devastated.
Later he met Rannei. Sondre noticed her in the hills, silently watching his daring snow dances. She proved to be a determined, yet mild mannered person with beautiful long hair and a talent for needlework. And no one made such beautiful needlework as Rannei Åmundsdotter from a cotter's farm at Øyfjell, a neighbour village.
Sondre was attracted to Rannei's personality and gentle strength. After marrying January 15, 1854, they moved to Kasin where Sondre built their first home. Kasin had the same marvellous view down to the valley as from Øverbø. They called the place "Sondresland".Besides being a good craftsman like his father, Sondre had many different work interests. He made and sold many useful things, such as furniture, tools, skis and also violins. He was also a carpenter and even provided services as a doctor making house calls to local neighbours.
In March 1854 their first daughter, Ingerid was born. The next year little Hæge came, but she died at only 15 weeks old. The next year Olav was born, and then another daughter they called Hæge. Then Anne, Auver, Åmund and Talleiv came next.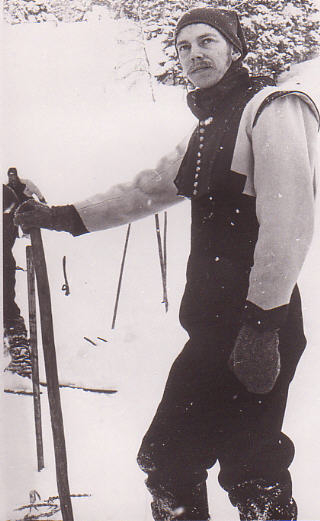 Olav Nordskog as Sondre in the Sondre movie
Courtesy of Hege Bjåland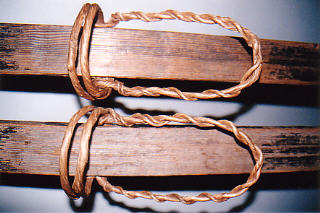 Skis and bindings made by Sondre
Photo by Eivind Molde
Courtesy of the
Norwegian Ski Museum Morgedal
Sondre and Rannei lost a second child when little Auver passed away only 12 years old.
The family moved around to different places in Morgedal. Their last place Sondre called "Norheim", which he also took as a new family name. (Previously he was called Sondre Auverson, meaning "son of Auver".) The family lived at Norheim for twenty years.Even with responsibilities of a big family, Sondre couldn't live without spending time on the hills and ski slopes. Skiing was his passion, his escape, his way of surviving. On the slopes he could be himself. Here he felt complete.
But being away from his family during these times often made him feel guilty for leaving Rannei home alone. "Rannei has chosen to have a bad memory", he said, "that's the only thing that can save her from despair". Luckily, Rannei also understood Sondre's need.
During his many times on the "crazy man's slopes", Sondre didn't hesitate to experiment creatively with the challenging terrain. To manoeuvre as he wanted between the trees and cliffs with high speed, the skis had to be attached tighter to the foot. And he determined that a ski with slightly curved sides would be easier to turn, so something had to be done.
As a versatile craftsman he was able to create the equipment he needed – bindings with straps around the heel and shorter, curved skis. Now it was even more challenging fun in the hills being able to adjust and develop new turning techniques and styles.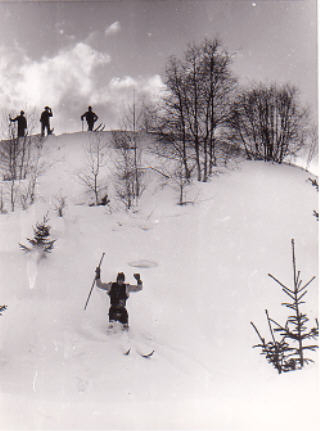 From the recording of the Sondre movie in Morgedal
Courtesy of Hege Bjåland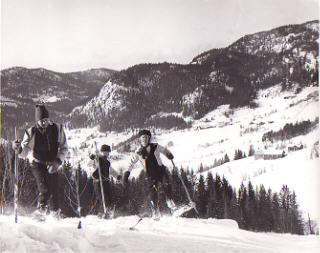 From the recording of the Sondre movie in Morgedal
Courtesy of Hege Bjåland
At home in Morgedal, Sondre was the undisputed master of the slopes. As time passed, the word about this acrobatic skier also reached the nation's capital. In 1868 he was invited to attend the very first national skiing competition in Christiania (now Oslo).Sondre was enthusiastic about being invited, and besides, there was money to win! Together with two fellows from Morgedal, he skied for three days to reach the capital, 200 kilometres away.
At age 42, Sondre won the competition with brilliance, even though many of his competitors were 20 years younger. People were overwhelmed by his breathtaking performance and so were the newspapers.Using the same skis, style and technique as he did back in Morgedal, he astonished the capital's audience. In fact, they hadn't seen anything like this before.
In the years to come, Sondre participated in several other competitions. Back in Morgedal, he spent lot of time teaching children to ski in his daring and challenging way.But the times were hard. Poverty and overpopulation forced many to emigrate from the Norwegian countryside. The first emigrants from Morgedal left for America as early as 1842. After a lot of consideration, Sondre and his family also made the decision to leave, hopefully for better times in another land.
May 30, 1884 Sondre and Rannei left Norway together with three children Anne, Åmund and Talleiv. Their son Olav and daughter Hæge had left in advance, and their eldest daughter Ingerid, decided to stay back home. After some time in Minnesota, the family settled in North Dakota where they found the prairie life no easier.

The family struggled to cultivate their farmstead in a difficult grassland climate. For Sondre it must have been an additional struggle as well – he was homesick for his native Norway. He longed for the hills and nature of Morgedal as he found his way of skiing impossible out on the flat prairie.But still neighbours said that a pair of skis was always placed outside the door, and one could see him skiing from time to time along the flat prairie traces.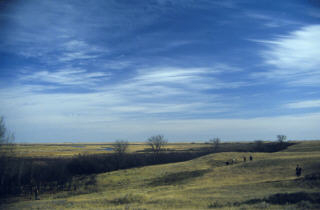 The place where Sondre and his family lived on the Dakota prairie
Photo by Odd Bakken
Sondre and Rannei enjoyed meeting the neighbours on the other side of the river, the Nelson's. During wintertime Sondre and Rannei skied across the ice to visit them. Nelson's called Rannei "Lena Claypipe" because of her intense pipe smoking. Their son Olav always looked forward to seeing Sondre, as he wanted to learn to ski. And Sondre was not hard to ask.
After lending Olav his skis, Sondre made a jump from timber and planks, covered with straw and snow. He had all the patience in the world with Olav, and they spent many days with playful ski instructions out on this flat prairie land.
Sondre had a religious nature. Although he was seldom in church during the winters in Morgedal, he now participated more often in church services. He even helped build a small church house near Villard. Sondre found comfort in God, especially during the hard and lonely periods of his life.
Sondre died March 9, 1897 and was buried out on the prairie near Denbigh. Shortly afterward, Rannei moved in with their daughter Anne in Oregon, where she lived till she died November 1, 1913, at age 88. Unfortunately, Sondre's grave remained unmarked for 68 years.
One of his great granddaughters, Dorothy Lyon, grew up with Sondre's son, Åmund, and felt rather close to him after listening to Åmund's stories about his father. She really wanted to know where Sondre was buried, and after reading about him in an encyclopaedia, she initiated a search for his grave. The grave was identified in 1965 and Sondre's gravesite was marked for posterity: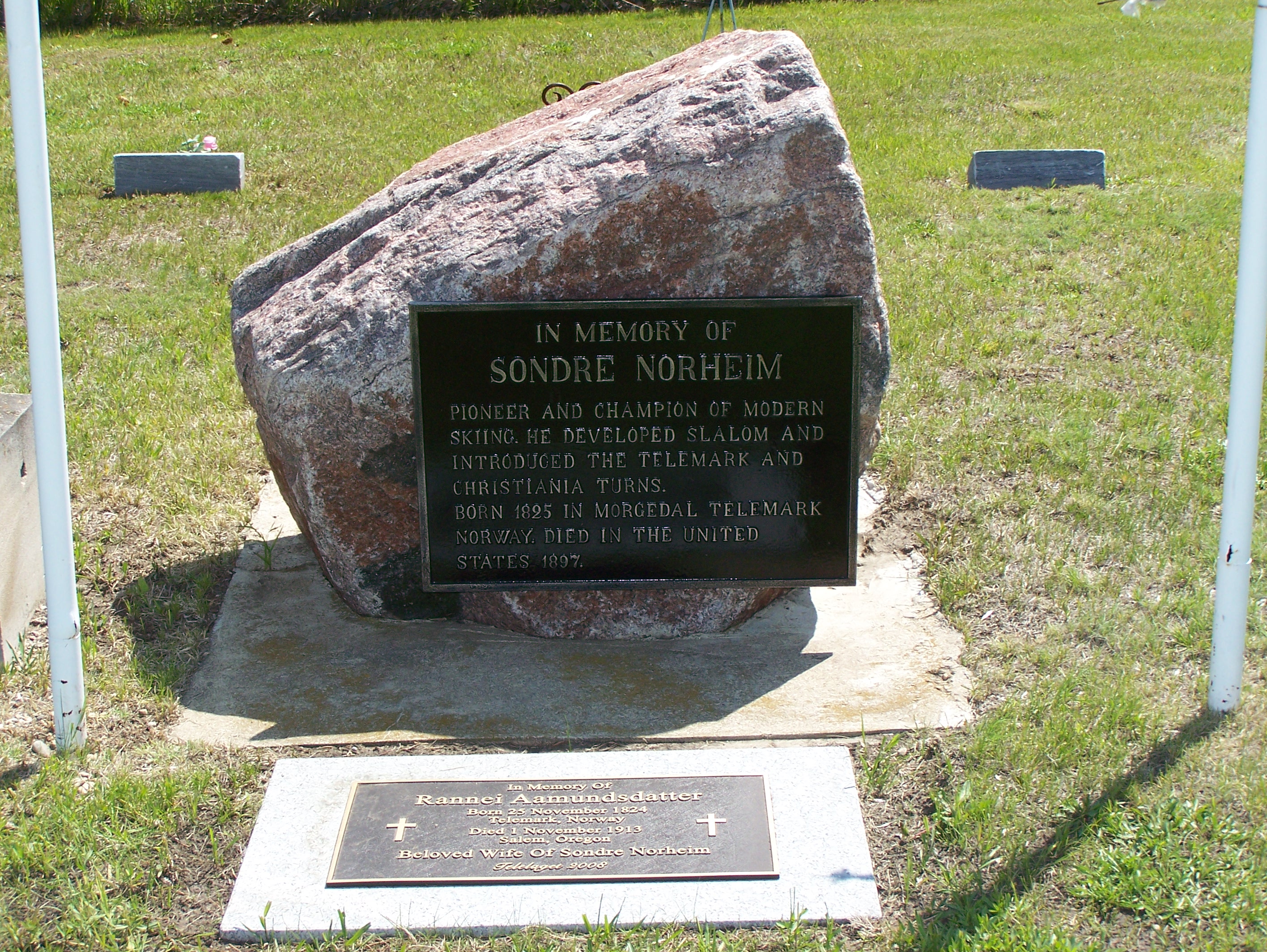 Sondre's grave with the gravestone and the Rannei Åmundsdotter Memorial Marker.
Photo by David Gunderson
"IN MEMORY OF SONDRE NORHEIM PIONEER AND CHAMPION OF MODERN SKIING. HE DEVELOPED SLALOM AND
INTRODUCED THE TELEMARK AND CHRISTIANIA TURNS. BORN 1825 IN MORGEDAL, TELEMARK, NORWAY. DIED IN THE UNITED STATES 1897"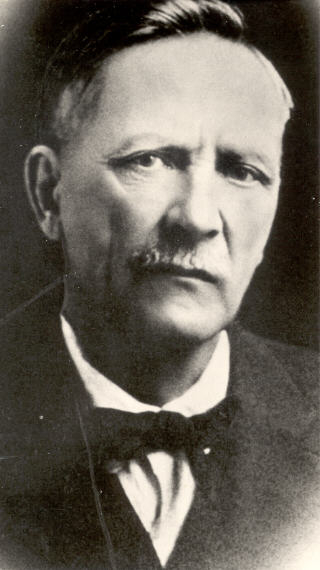 Sondre photographed in America
Courtesy of the Ski Museum, Holmenkollen, Oslo
Sondre Ouverson – born June 10, 1825 – Øverbø, Morgedal
Sondre's father: Ouver Eivindsson
Sondre's mother: Ingerid Sundresdotter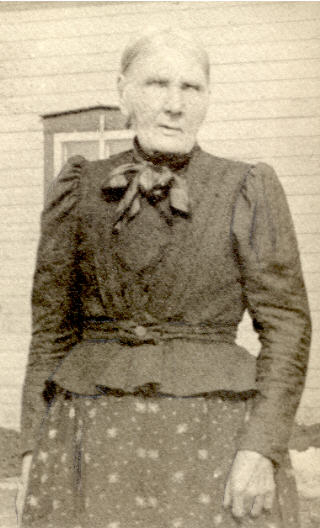 Rannei photographed in America
Courtesy of the Ski Museum, Holmenkollen, Oslo
Rannei Åmundsdotter - born November 25, 1824 - Øyfjell
Rannei's father: Åmund Oleson
Rannei's mother: Hæge Olavsdotter
Sondre (28) and Rannei (29) married in Brunkeberg Church January 15, 1854
Ingerid – born March 10, 1854, died 1899 in Hokksund, Norway
Hæge – born October 1, 1855, died January 17, 1856, 15 weeks old in Morgedal
Olav – born October 18, 1856, died February 21, 1941 in Oregon
Hæge – born August 22, 1859 (year of death unknown)
Anne – born October 22, 1863, died November 7, 1947 in Oregon
Auver – born April 5, 1867, died March 16, 1879, 12 years old in Morgedal
Åmund – born February 28, 1870, died May 7, 1943 in North Dakota
Talleiv – born November 11, 1872, January 21, 1945 in Oregon
Sondre's last name was Ouverson, meaning "son of Ouver". Very often the family names had the function to tell who the father was. This was also the case regarding Sondre's wife. Rannei's last name was Åmundsdotter, because Åmund was her father's name ("dotter"="daughter").
Sondre and his family lived at several cotter's farms in Morgedal. The last place where they took homestead, they named Norheim. And from then they also used that name as their new family name.
This family name has been written both "Norheim" and "Nordheim" – with and without a "d". According to Telemark records, most importantly from the church where Sondre and Rannei were married, their name was written "Norheim".
"Norheim" is the spelling most commonly used when Sondre's name has been mentioned publicly, in books, articles, at monuments, in the museums and also in the information material available in the Sondre cottage in Morgedal. When the documents related to the US immigration were identified, we for the first time learned how Sondre himself wrote his name. Sondre's signature on the Emigration Document from May 1888 proves that he wrote "Nordheim" himself. That signature is also the only example of his handwriting that we know of.
Other than the previously mentioned Telemark records, there is no documentation indicating how the family name was spelled while they lived in Norway. Both "Norheim" and "Nordheim" are commonly used names in Norway today – with a majority using "Norheim". The meaning of Sondre's last name is "a home located in the north".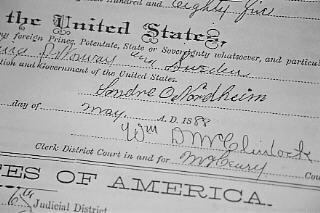 The Skiing Pioneer of Telemark
email@sondrenorheim.com
Copyright © 2023 by Anne-Gry Blikom and Eivind Molde
All rights reserved